RSA (CVRT) Testing Services
We have been an authorised RSA (CVRT) Vehicle Testing Network test centre since 1983, helping our customers prepare their vehicle for the test and receive the pass certificate. We opened a new drive-through, state-of-the-art test centre with all the latest testing and diagnostic equipment in August 2007.
We provide a full testing service for both light and heavy commercial vehicles as well as tachograph and speed limiter calibration. Our convenient location also allows Cronin Commercial & Repair to cover a wide catchment area. Although situated in the heart of West Cork, we provide testing services for customers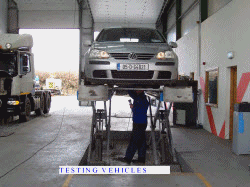 from any county and actually have customers on our books who travel from various parts of Ireland for servicing, repairs and testing.
Some important changes have been made recently to the CVRT (Commercial Vehicle Roadworthiness Test) system that will help to make the roads safer for all road-users. Well maintained and serviced commercial vehicles and commercial vans should have no problem in passing the CVRT test.
Test Categories
The LGV test covers vehicles such as vans and light lorries up to 3500 Kgs gross. The majority of commercial vehicles fit into this category for testing purposes. If a vehicle can be driven on a category "B" car driver licence then this would be the test category for your vehicle.
The HGV test covers commercial vehicles such as buses and heavy trucks in excess of 3500 Kgs gross vehicle weight. Generally, this test applies to vehicles which have a tachograph fitted or require a driver licence type "C1" or above. While the test is typically for buses and trucks, some large vans also fit into this category as they have a GVW in excess of 3500 Kgs.
If you would like to have your vehicle checked and prepared for the test, visit the Test Preparation page for more details.
Call Kevin at 023-884-5498 for more information on our CVRT testing services or CVRT test centre.