Maintenance & Repairs
All makes and models of cars, vans, (LCV's), buses, trucks (HGV's) and machinery are repaired, serviced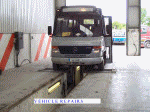 and maintained in our large workshop, while popular replacement items like filters and belts are supplied and fitted for all types of vehicles and machinery. We have the latest in diagnostic equipment to detect problems quickly and we specialise in air conditioning and re-gassing in air conditioning systems for all vehicle types. You can count on Cronin Commercial & Repair for the best car repair service Cork and all your car, commercial vehicle and HGV servicing needs.
Capabilities
We provide complete bus, coach and truck mechanical service and repairs including manufacturers warranty scheduled services on all vehicles and full engine reconditioning or rebuilding if required. Scheduled services of your vehicle can be arranged at a time to suit you. A scheduled servicing program at Cronins will help increase vehicle life, reduce costly breakdowns and improve your bottom-line operating profit. For faster service a pre-arranged booking will ensure our fully qualified mechanics get your vehicle roadworthy in the shortest possible time. If you would like to learn more about scheduled servicing at Cronins or just want to book a service, please fill out the Quick Inquiry form on the left.
Our range of services includes:
Air Bag Repair & Maintenance
Axle Alignment
Bodywork & Crash Repairs
Brake Service & Maintenance
Chassis Repairs
Clutch Repairs
Diesel Engine Reconditioning or Rebuilding
Differential Repairs
RSA/CVRT Test Preparation & Testing
EBS & ABS Diagnostics
ECU, Electrical Diagnostics, Repair & Fault Finding
Gearbox Repair or Reconditioning
Steering Repair & Maintenance
Spring & Shock Absorber Replacement
Suspension Repair
Tachograph Installation & Calibration (Analogue or Digital)
Call us at 023-884-5498 to book a service or repair, check on status of a job or if you need more information about our car or commercial vehicle maintenance and service options.